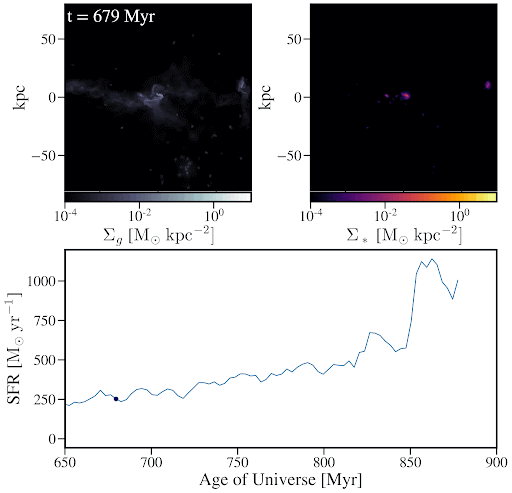 My research interests are broadly described as galaxy formation and evolution. Most of my undergraduate research focused on dusty galaxies in the early Universe, studying their properties, learning a lot about galaxy spectral energy distribution (SED) modeling, and figuring out how to think like a scientist.

At University of Florida, I've been working on my PhD with Desika Narayanan. I dabbled a bit more in SED modeling and published two papers using cosmological simulations to 'ground-truth' SED modeling techniques by understanding the assumptions we make when asking a simple question like "How do we measure the stella mass of this galaxy?"

As part of my thesis, my current work is again focused on the first dusty galaxies in the Universe and understanding the origin of massive galaxies. Namely, asking questions like how they achieved huge star formation rates, how they formed huge reservoirs of dust, and what is their fate as they evolve over cosmic time. I spend my time analyzing hydrodynamic simulation outputs, thinking about how to visualize large and multi-dimensional datasets, and finding causal connections between the complex physical systems that drive galaxy formation and evolution. Below you'll find more in depth descriptions of the projects I've lead or co-lead at UIUC and UF.